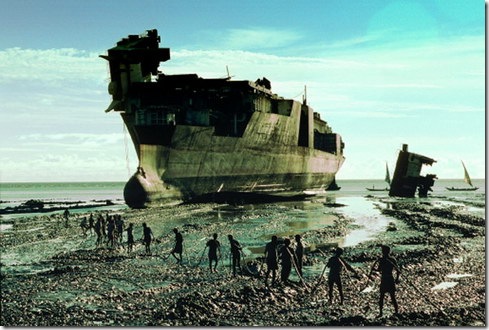 The ship breaking yards in Alang, India, and in Chittagong, Bangladesh, are where more than half of the world's old ships, oil tankers and ocean liners go to be beached like huge whales, stripped, cut into pieces, and cannibalized for iron and steel to be used in building new ships.
These hell holes are not just a killing ground for old vessels; thousands of hapless, but able-bodied young men have lost their lives doing back-breaking work in one of most hazardous working conditions in the world. Not only do they have to work without any basic safety equipment, they have to also endure prolonged exposure to toxic chemicals and waste matter during the course of work. Lung cancer and asbestosis is quite common among these poor souls.
Alang located on the western coast of Gulf of Cambay, in the western part of India, is the largest ship-recycling yard in the world. Ever since its inception in 1982, Alang has emerged as one of the choicest ship-scrapping destinations for the ship owners around the world. Hundreds of ships from all over the world find their final resting place in Alang every year.
There are 173 plots to carry out the ship-recycling activities. This activity forms an industry by itself, as it provides around 30,000 jobs in Alang itself and generates steel totaling to millions of tons every year. That too, with minimum consumption of electricity.
The world's largest graveyard of ships in terms of capacity, Alang completed recycling 5,000 vessels a few weeks back since its beginning in 1982.
( February 2010)"Around 281 ships have been recycled this financial year. Another 125 ships are being broken for recycling at different yards," said the Ship Recycling Industries Association of India, which represents 160 recyclers based at the breaking port.
Visit this link to see some haunting photographs of decaying ships and desperate men, and also some information about them compiled from various sources.